Welcome Nigeria customer visit our factory for fibre blanket
Categories: News
Stars: 3Stars
Visit:

-
Release time: 2015-03-23 15:54:00
On 23rd, March, 2015, the Nigeria customer visits our factory. The Nigeria client is the contractor for Mobil oil project, specialized in thermal insulation engineering for oil pipe. The purpose of this business trip is to purchase CCEWOOL ceramic fiber blanket used as thermal insulation material for petroleum pipe. Our client used to purchase from India, but as the quality and delivery time problems, he decides to choose a supplier in china who can provide ceramic fiber blanket with stable quality and fast delivery time. After visited our factory and talked with our manager Mr. Peng, the client recognized the high quality, even needle, precise size, low shot content, and the stable chemical characteristic on high temperature of CCEWOOL ceramic fiber blanket.
After deep communication, our Nigeria customer feels Mr. Peng has rich knowledge of refractory material, he trusts Double Egret, so he decided to purchase all the insulation material from us, which including rock wool, glass foam, calcium silicate board. With over 10 years experience in refractory industry, Double Egret find the local factory that can provide reliable quality and reasonable price in short time and get his highly praise.
The Nigeria client is a very serious business man. He doesn't feel relax until confirmed all the details well. That night, we have dinner together, we are talking and laughing, just like a big family. After dinner, he texts to Mr. peng: my regards to your loving family. Am happy to meet this crowd of workers, earnestly you surprise me tonight. You make me feel at home, Thanks in all.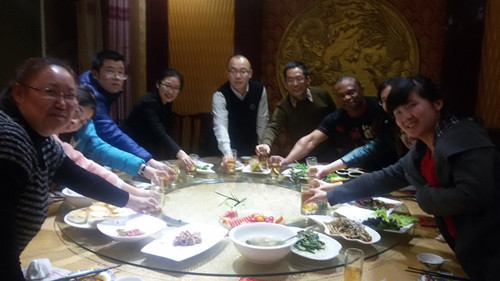 For our clients, Double Egret is not only the partner, but also the trustable friend!
leave message to apply
Your Name :

*

Company Name:

*

Your E-mail:

*

Remarks:

*