Double Egret News - Keep on going , always be the top.
Categories: News
Stars: 3Stars
Visit:

-
Release time: 2016-02-29 16:03:00
On Feb 23rd, Engineer Lee who is the expert in refractory material area trained Double Egret staff about furnace energy saving.
Engineer Lee graduated from the Chinese well-known University main in refractory material. And he has over 40 years experience in this area. Engineer Lee is very familiar with refractory and insulation material and insulation solutions. He has ever taken part in the designing of furnace for many projects, such as heating furnace, annealing furnace, blast furnace in steel industry; Aluminum melting furnace in alumina industry; Oil cracking furnace in petrochemical industry. Roller kiln in ceramic industry, etc. At the same time, Engineer Lee also analyzed how to improve the furnace insulation effect and the furnace trends.
With the energy consumption and the energy saving need for the companies, the furnace will use more light weight refractory material in the future.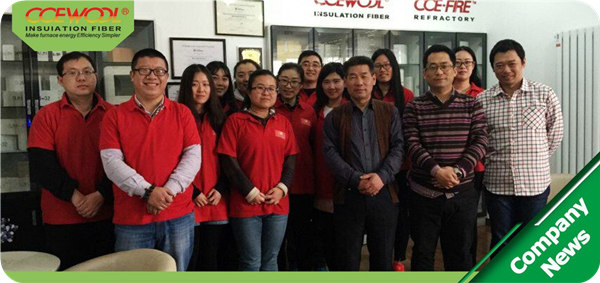 On the premise of guarantee furnace's using life, improving the insulation effect and save the energy. Double Egret experts - Engineer Lee said that the light weight mullite brick, high weight mullite brick, ceramic fiber and castable will be more widely used in furnace area.
As the rich material in China and the improved producing technology, the mullite price produced in China will be more and more popular in the future.
CCEWOOL - industry leader in furnace insulation energy saving solutions, not only supply products, with the powerful technical department + expert group + research center in America, also provide furnace insulation energy saving solutions.
More information, pls check : www.ceceramicfiber.com
leave message to apply
Your Name :

*

Company Name:

*

Your E-mail:

*

Remarks:

*