CCEWOOL ceramic rope seal
Categories: New order
Stars: 3Stars
Visit:

-
Release time: 2018-10-08 16:00:00
Dominican customer
Cooperation years: 1 year
Ordered product: CCEWOOL ceramic rope seal
CCEWOOL 1260STD ceramic fiber blanket and ceramic rope seal customized for Dominican customer are delivered on time on September 19th, 2018 from our factory. Please prepare for picking up cargo.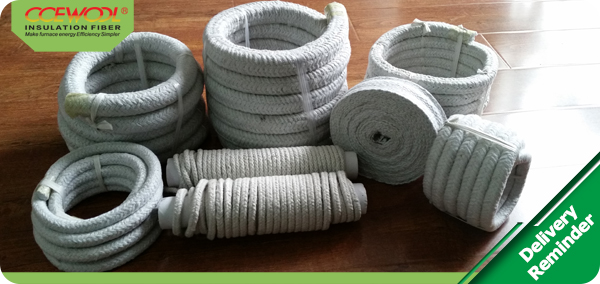 CCEWOOL ceramic rope seal is made of high quality ceramic fiber bulk, added with light spinning yarn and woven by special process. It can be divided into ceramic fiber twisted rope, ceramic fiber square braided rope, ceramic fiber round rope. According to different working temperatures and working environment, we add reinforcing materials like glass fiber or heat-resistant alloy steel wire etc.
This customer is CCEWOOL's old customer. This time he ordered CCEWOOL ceramic rope seal and 1260STD ceramic fiber blanket. CCEWOOL has branch company in Canada and can provide instant service to North American customers. This customer is very satisfied with CCEWOOL's product quality and service. We had very pleasant cooperation.
Workers are loading the container. Our merchandiser counted the quantity of products carefully to make sure all products were loaded into container.
This shipment of CCEWOOL ceramic rope seal and ceramic fiber blanket will arrive destination port around Oct 20th. Please prepare for picking up cargo.
leave message to apply
Your Name :

*

Company Name:

*

Your E-mail:

*

Remarks:

*