CCEWOOL ceramic fibre paper 1260c of Peru customer is delivered
Categories: New order
Stars: 3Stars
Visit:

-
Release time: 2018-01-22 16:00:00
One container of various specification of CCEWOOL ceramic fiber paper 1260c, ceramic fiber blanket and refractory mortar ordered by Peru customer is delivered on time on Jan 8th, 2018. Please prepare for collecting cargo.
This order of CCEWOOL ceramic fiber 1260c is packed with CCEWOOL carton as per customer's requirement. This customer has cooperated with CCEWOOL for many years and is very satisfied with CCEWOOL's product quality and service.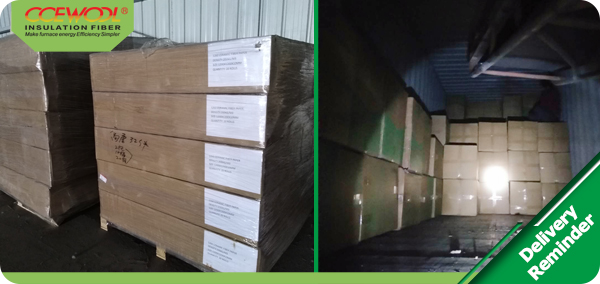 Workers are loading the container. All products are piled neatly inside container to make the most of container space. What is worth mentioning is that it was 9 degrees below zero on loading day. Because the truck arrived at factory late, our workers loaded the container till 10:00PM. We should give our workers thumbs up.
This shipment of CCEWOOL ceramic fiber paper 1260c will arrive destination port around Feb 5th. Please prepare for picking up cargo.
leave message to apply
Your Name :

*

Company Name:

*

Your E-mail:

*

Remarks:

*