CCEWOOL Refractory brick and ceramic fiber products of Ireland customer is delivered
Categories: New order
Stars: 3Stars
Visit:

-
Release time: 2016-06-08 16:00:00
CCEWOOL Ireland loyal customer places order to us again. This order purchases CCEWOOL refractory brick and different kinds of ceramic fiber products including: 1260STD ceramic fiber module(SS304 anchoring), size 300*300*225mm(180kg/m3); 1260STD ceramic fiber paper, size 10000*610*6mm(200kg/m3); 1260STD ceramic fiber spun blanket ( double side needle craft), size is 6000*600*25mm(128kg/m3) and refractory brick.
After payment, we place order to the factory in accordance with the standard order process, emphasizing quality requirements and delivery time. During production process, our staff checks the production several times and timely taking production photos to the client, the service is approved by customers. May 30th , this order finishes production and ready to deliver from factory.
Founded in 1999, CCEWOOL is an early brand specializing in the production of ceramic fiber products. The factory area is 80,000m2. Now we have 26 ceramic fiber blanket production line, 4 automatic production line of ceramic fiber board, 2 ceramic fiber paper production line and 2 ceramic fiber textile production line. Annual output reaches more than 60,000 tons, products in various types with strong supply capacity. Till now, we own more than 15 years export experience, export to more than 30 countries and have many high quality customers.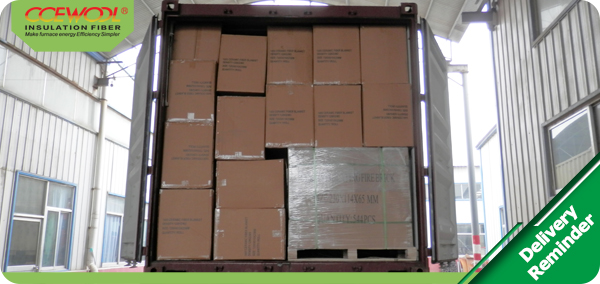 The goods is expected to arrive at port on July 1st, please be ready to pick up.
leave message to apply
Your Name :

*

Company Name:

*

Your E-mail:

*

Remarks:

*