Customized CCEWOOL refractory ceramic fiber blanket was delivered on time
Categories: New order
Stars: 3Stars
Visit:

-
Release time: 2018-12-03 16:00:00
One container of CCEWOOL 1260HP refractory ceramic fiber blanket and 1430HZ ceramic fiber blanket with size 7320x610x25mm was delivered on time on Nov 12th, 2018 from our factory. Please prepare for picking up cargo.
CCEWOOL refractory ceramic fiber blanket is needled blanket with super high tensile strength which is produced with ceramic fiber spun bulk. This product doesn't contain any organic binder. The product is produced with inside needle technology. It is sable, safe and energy efficient. We can produce the blanket of different density and size.
This customer has cooperated with CCEWOOL for years. He found us by Google search. In October, he received one container of 1260STD refractory ceramic fiber blanket from us. And he was very satisfied product quality, so he ordered again immediately.
Workers are loading the container. They piled the cargo neatly inside container to make the most of container space.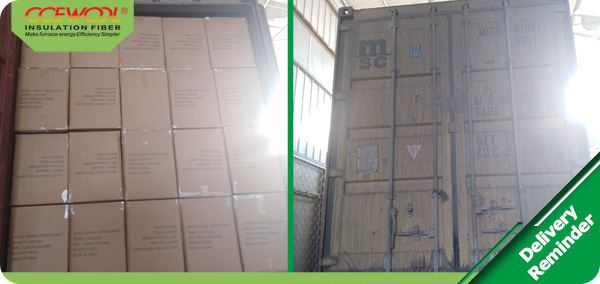 This shipment of CCEWOOL refractory ceramic fiber blanket will arrive destination port around Dec 12th. Please prepare for picking up cargo.
leave message to apply
Your Name :

*

Company Name:

*

Your E-mail:

*

Remarks:

*